Falls are a serious issue for seniors who are living independently, as well as those who live with family members or in a nursing facility. For family members or anyone who is caring for a senior, it's very important to learn as much as possible about fall prevention and the steps that can be taken to ensure their loved one's safety.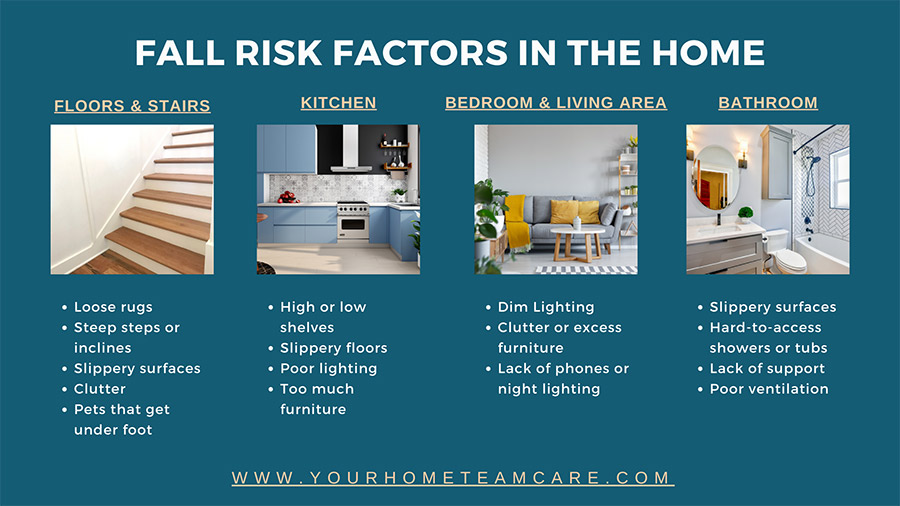 According to the Center for Disease Control and Prevention "Every second of every day in the United States an older adult falls, making falls the number one cause of injuries and deaths from injury among older Americans."
If we look at the statistics behind seniors and fall injuries, we can see that it is not a small issue. According to NCOA The National Council On Aging Falls result in more than 2.8 million injuries treated in emergency departments annually, including over 800,000 hospitalizations and more than 27,000 deaths. In 2015, the total cost of fall injuries was $50 billion. Medicare and Medicaid shouldered 75% of these costs.
As seniors age it is very common for them to loose a steady balance and gait. There are also a lot of common medical conditions that can increase fall risk among seniors. Those conditions include:
Dehydration
Chronic Pain
Arthritis
Parkinson's Disease
Alzheimer's and Dementia
Disorders of the foot or Legs
Thyroid or Blood issues
Weakened Muscles
Sensory Issues with Hearing, Vision or Neuropathy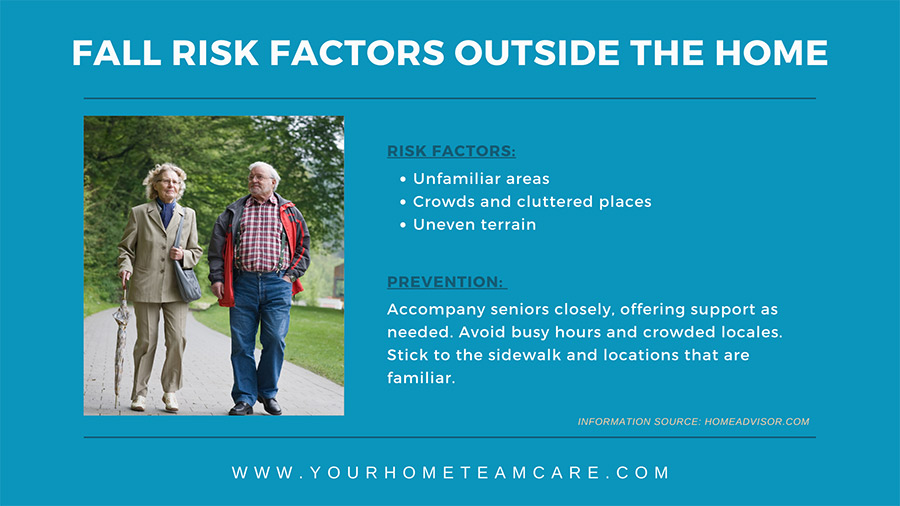 Here's How to Tell if a Senior is at Risk of Falling:
As adults get older they tend to become less physically active. This reduction in physical activity for aging adults usually leads to a reduction in muscle strength, loss of balance and bone mass, a reduction in flexibility and a loss in coordination. There are also many other factors that can cause falls which are not attributed to physical inactivity. Let's take a look at these factors below:
Information source: http://nihseniorhealth.gov
Caregivers and seniors alike are often times uncertain about the safety measures that can be taken to help prevent falls inside the home, as well as outside of the home. Let's get a bit deeper into fall prevention and the different ways you can keep your senior's home safe in order to prevent falls and injury.
Information Source: http://homeadvisor.com
Fall Prevention Measures You Can Take To Keep Your Senior Safe In The Home:
On Floors & Stairs:
Fall prevention measures can be taken in every area of the home. A few simple things you can do in stairways and on floors are: Add traction surfaces and rails along the walls. Clean up obstacles and secure pets when seniors need to move and install a chair lift on stairs if needed.
In The Kitchen:
The kitchen area can be hazardous for children as well as older adults. Here's how you can make it a bit safer: You can move common kitchen items to waist level and add traction pads to floors. Another thing you can do is to increase lighting and last but not least, remove or rearrange furniture for easier maneuvering for your senior.
Bedroom & Living Area
These are 2 of the most common areas for families, you can do a few minor tweaks to ensure it is a safer place for your senior: Try adding brighter lighting, include night lighting and clear a path for easy navigation (night time can seem a bit darker the home, try to make the rooms brighter no matter what time it is) You can also secure cords, wires, and other tripping hazards behind furniture or there are very affordable hooks that you can purchase online or at your local hardware store to keep wires on the walls or out of site. One last but very important thing that can be done, is to make sure all house phones are easily accessible. If there is an emergency, either you or your loved one should be able to easily access a phone to call for help.
Bathroom
Keeping the bathroom both dry and ventilated is very important. You can also add non-slip mats, as well as grab bars in the bathroom. One other important step to take is to install more accessible fixtures like seating and grab bars within the shower area as well as in the tub.
Fall Risk Factors Outside The Home
When a senior falls down it can be a combination of things that attribute to the fall itself. When those factors are all combined, it leads to serious injuries that can be life-threatening to seniors. Apart from the physical injury a senior can experience from a fall, they can also be affected mentally. Falling or escaping a fall can leave an elderly person scared and shaken, they may even have withdrawal symptoms after a fall and show signs of mental decline. If you are the primary caregiver of a senior client or loved one, it's important to take every precaution available to ensure their physical and mental well being. Learning how to modify their home and lifestyle is the best way to prevent falls and ensure peace of mind for both you and your aging loved one.
If you live in the Knoxville area and you're caring for a loved one but you're concerned about their safety in the home, you can give us a call at (865) 332-5000 and request a Free Safety Assessment. All of our safety assessments are conducted by a Registered Nurse.