Dr. John R. Staley – Founder and President of YHTC
After Co-Founding TeamHealth, Dr. Staley Saw A Need For Quality Care For Seniors In The Home.
From Our Founder
As an emergency department physician, I have provided medical care to many senior citizens over the years. However, until my parents began to age, I never realized the issues involved in maintaining an elderly loved one in the home, and as an only child, all of those responsibilities fell on my shoulders.
After many frustrating years trying to find an organization that provided the scope and quality of care that I wanted for my parents, I became passionate about creating an organization that offers unsurpassed, legendary services to meet the specific needs of each senior and to have each senior's services managed by registered nurses.
Collectively, our physician and RN leadership experience with local senior healthcare totals more than 90 years! Dedicated and driven to deliver high-quality, compassionate services in a manner that reflects sensitivity and respect for the people we serve, our physician leadership and RN management will ensure that your loved one receives comprehensive support services you can trust and that gives YOU PEACE OF MIND.
Our pledge to each senior we serve and their families is that we will care for your loved one as if they are our own!
Dr. John Staley
Co-founder of TeamHealth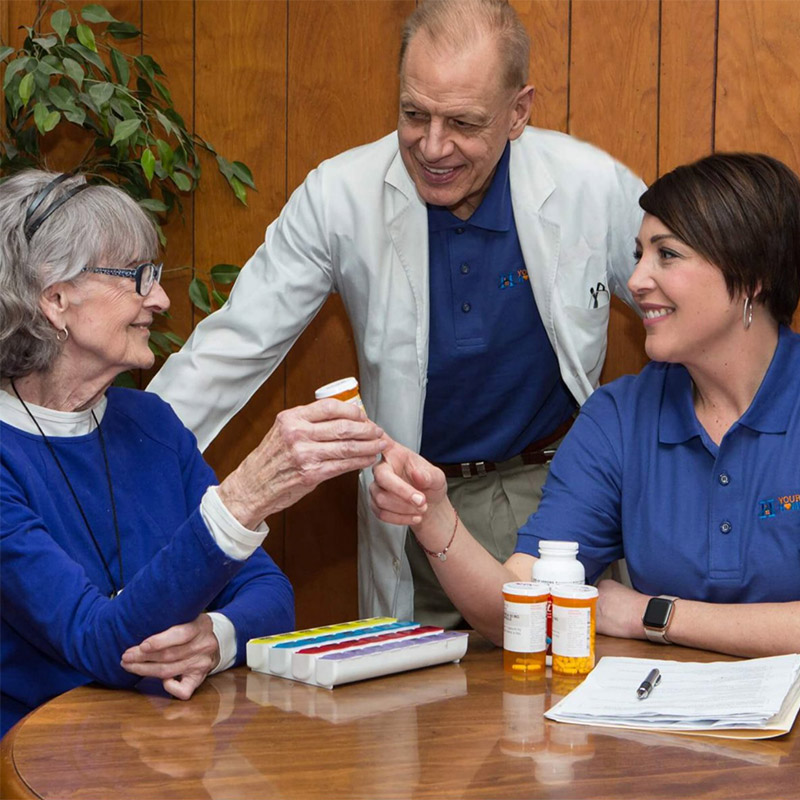 Do You Need In-Home Care?
Sometimes it's hard to determine if a loved on truly needs a little extra help or supervision. Here are some early warning signs to look out for.
LEARN MORE
Where Do I Start?
There's a ton of confusion about in-home care out there but we've made it easy for you! It's as simple as getting in touch with us to learn more about what we offer.
CALL NOW
What Does YHTC Offer?
Your Home Team Care is proud to provide Knoxville with top-quality in-home care and in-hospital attendants with advanced training.
LEARN MORE
What Healthcare Professionals Are Saying About Dr. Staley
I have worked with Dr. Staley for most of the last 40 years as a co-founder of TeamHealth. He has always focused on high-quality patient care delivered by the best teams of motivated, compassionate caregivers. He understands and values the importance of both patient and family satisfaction and trust coupled with high-quality care.
Dr. Staley is tireless, ethical and approachable by all, always seeking ways to improve a process or service. I've been proud to call him a partner, colleague, co-founder and friend.
I was recently made aware of a new concept in-home care by the co-founder of TeamHealth, Dr. John Staley. This long-time colleague has developed a home care model that I think will revolutionize how our elderly loved ones will be cared for in a home setting.
The a-la-carte menu that will be offered by Your Home Team Care will be second to none in my opinion. As the long-time caretaker to my father, I wish that this concept had existed while he was still living.
Based on the long, successful track record of Team Health, I have no doubt that the menu and care that YHTC will offer our loved ones will be unsurpassed in the home health care arena.
I have had the great pleasure of working with Dr. Staley in the past and the opportunity to experience his leadership and his commitment to excellence. He has taken his vision and commitment and turned it into an a home care support service organization which will leave you feeling as if you were taking care of your loved ones yourself. As a leader myself in healthcare and as the president/CEO of MyFace2FaceMD, having Dr. Staley leading YHTC you can be certain the services he brings to your home will be second to none.

CONTACT INFORMATION
300 N. Winston Rd.
Suite 403
Knoxville, TN 37919
(865) 332-5000