The Christmas holidays are a joyous time for everyone, however, depression is very common among seniors during this time of year. When it comes to senior care it's important to note that seniors are prone to feeling sad and alone.
This is very bad for their mental and physical health. It is important to note that helping your loved one enjoy the holidays can not only lift their spirits, but it may also extend their life span and improve their quality of life.
If you're caring for your aging parent/grandparent or family member, you may have concerns about how to keep them happy, safe and engaged during the holiday season. In this blog post we're dishing out a few tips to help you do just that!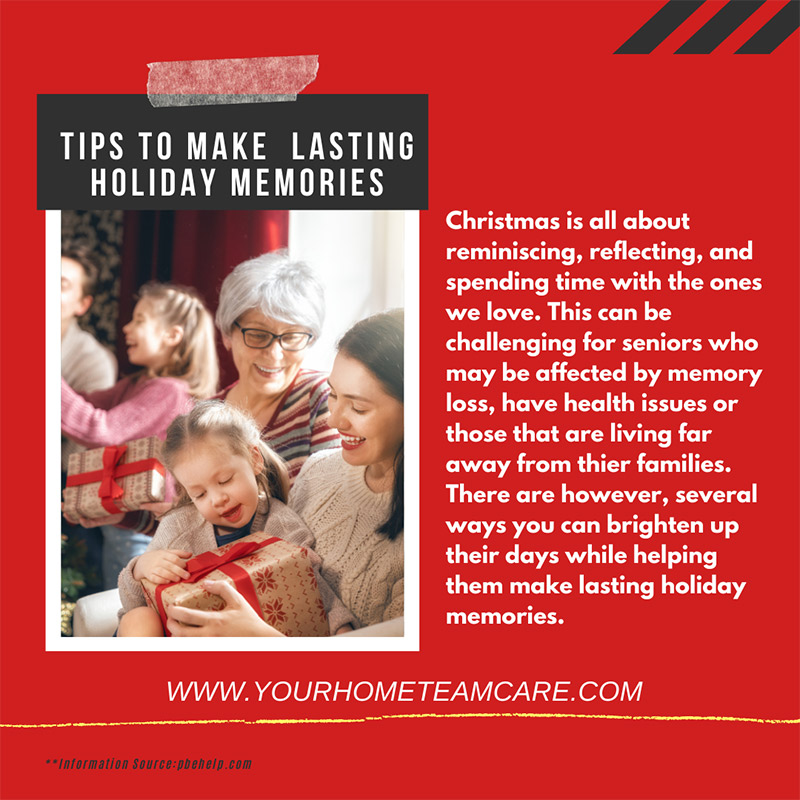 Learn to spot the signs of loneliness
It can be hard for seniors or their loved ones to recognize their loneliness, as well as the health problems that arise because of loneliness. As a result, very few seniors reach out for support when they feel alone. Here are a few signs to look out for:
Under or oversleeping
Withdrawal from existing relationships
Combativeness or moodiness
Depression
Lack of appetite
Anxiety over change or visitors leaving
Lack of interest in normal passions
Decreased attention to self-care
Information Source: https://www.seniorsguide.com/senior-health/understanding-seasonal-depression/
Let's Get Into Safety Measures You Can Take During The Holidays
Apart from the above tips, if you are providing senior care to a family member or friend, there are a few ways you can ensure safety in the home as well. When decorating your home this Christmas, remember that some decorations can be dangerous for seniors. Be sure to look out for loose carpet, hanging ornaments or string lights that may be a trip hazard. You can keep your loved one safe by securing all wiring, lights and other decorations so that nothing is sticking out or hanging down. If you plan on lighting candles or having special glassware around, just be mindful of where you are placing these items so as to avoid any accidents that can happen.
Senior Care Tips To Help You Make Holiday Memories With A Senior In Your Life
Here are a few ways you can make lasting Christmas memories with your senior loved one:
Play Music in the home: Softly play holiday music, including songs that were popular in past decades or some of their favorites
Read holiday cards together and use them to decorate
Create a holiday craft with your senior or help them select/make gifts for their loved ones
Share your favorite holiday memories with then and ask them to share theirs
Look through old photo albums and reminisce withe them
Take them along on a drive to see the holiday lights & Christmas decor around the neighborhood
Information Source: pbehelp.com
In closing it's important to keep in touch with seniors even after the Christmas Holiday is over.
Besides the tips we mentioned above that are specifically geared toward the holiday season, there are other ways you can help combat loneliness for them long after the holidays are over. It's important to keep them connected to family and friends in order to reduce the feeling of isolation. Here are a few things seniors can do:
Get connected with local senior centers

Participate in home visit-programs

Schedule regular phone & video calls with loved ones

Practice writing letters or cards, even to pen pals

Use technology to connect with distant loved ones

Mark Special events to look forward to on the calendar

Call The Friendship Line at 1-800-971-0016 at any hour to engage in conversation
Information Source: https://www.ncoa.org/blog/how-to-fight-loneliness-seniors-this-holiday/
At YHTC our staff of dedicated Caregivers are here to provide care for your loved one whenever they need it. If you would like to learn about our In-Home Senior Care Services and how they can benefit you and your aging loved one, give us a call at: (865) 332-5000 we would love to hear from you!