Often times when an elderly person is unable to care for themselves and function independently, a family member steps in to help care for them. Being the family caregiver for an aging parent or grandparent is one of the toughest roles to undertake.
No matter where you live, the role of a caregiver in the home is both physically and mentally demanding. It can be stressful caring for your aging loved one on a regular basis, especially if they are dealing with an illness, injury, dementia or other progressive illness.
As the primary caregiver, your responsibilities may extend beyond just the daily well-being of your loved one. Things like diet and nutrition, finances, medications, doctor visits, home safety, bills and future planning all fall on your shoulders as caretaker. Most family caregivers have a lot to deal with outside of their caretaking responsibilities, which can make the role particularly overwhelming.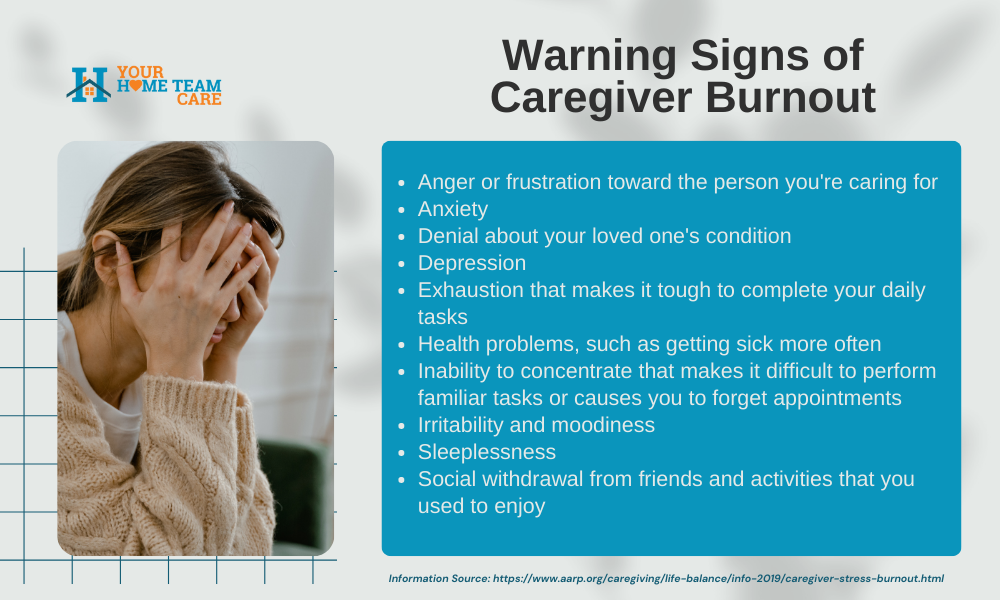 Caregiver Burnout
According to AARP and the research they have conducted:
36% percent of family caregivers characterize their situation as highly stressful, according to the "Caregiving in the U.S. 2020" report from AARP and the National Alliance for Caregiving (NAC).
Since 2015, when AARP and NAC last conducted the national survey, the proportion of caregivers describing their health as excellent or very good has dropped from 48% to 41%.
A November 2021 study from insurance firm Genworth found that 42% of family caregivers experience depression, mood swings or resentment as a result of their labors Thirty percent reported sleep deprivation, and 43% said caregiving responsibilities have negatively affected their relationship with a spouse or partner.
At YHTC we understand that family caregivers are overwhelmed, not just because of their caregiver responsibilities, but also because of their responsibilities at home and at work. There is help available to family caregivers to help them maintain their peace of mind and take away the stress that comes with being the primary caregiver of an aging loved one.
As a family caregiver, you need a break! If you are always on the go, tending to the needs of your aging parent/grandparent, you may find that you're always drained and tired, have mood swings, avoid socialization and you might even be putting your health and well being on the back burner. These are all signs of caregiver burnout and stress. In order to be the best you can be for both your family and yourself, you should seek out the help and support of someone who is able to give you the relief you need.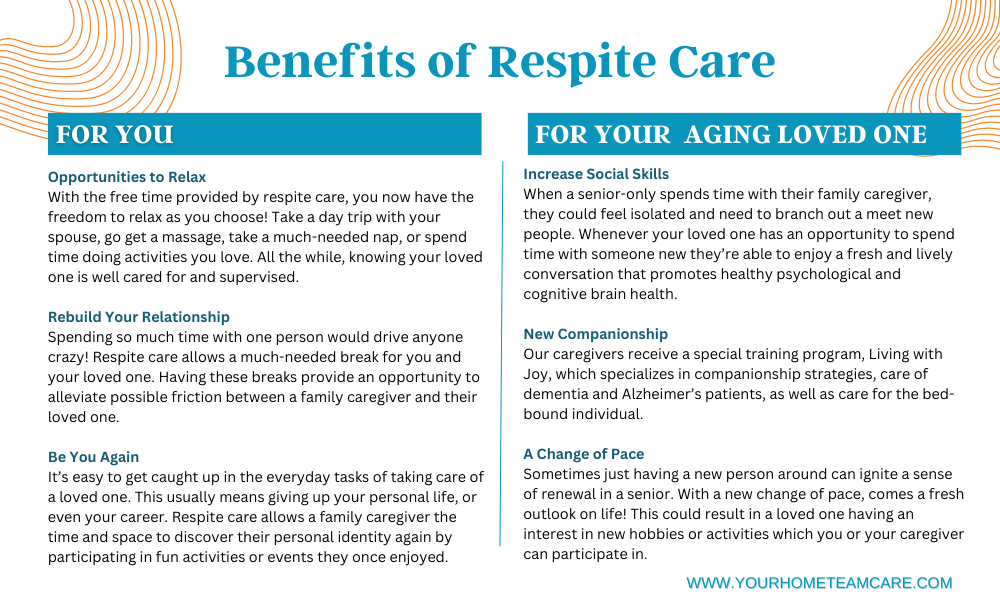 Peace of Mind & Relief For Family Caregivers
There is help available to family caregivers to help them maintain their peace of mind and take away the stress that comes with being the primary caregiver of an aging loved one.
You can get peace of mind & relief with YHTC's compassionate and highly trained caregivers. Our caregivers are always ready and available to step in and provide temporary care for your senior loved one, so that you can get a much deserved break. You can use this time to take an evening off, spend some time with your family, watch a movie, hang out with friends, take a walk or enjoy a hobby. Also, you can do all of these things with the assurance that your aging loved one is safe and in capable hands at home.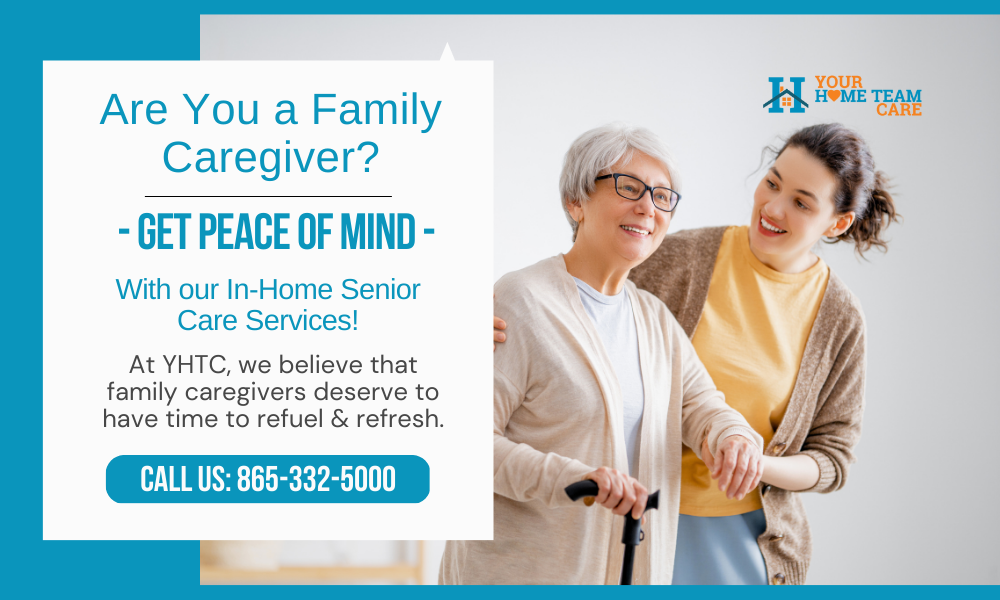 Here's How Our Temporary Relief Care Works To Help You & Your Aging Loved One
When you contact us at YHTC, one of our RN Care Managers will review your senior loved ones' preferences and properly assess their needs. We provide them with care they can trust while you get time to yourself.
Our Relief Services Will:
Follow your senior parent/grandparent's care plan with in-home services provided by one of our highly trained YHTC Caregivers
Prevent the resentment that usually develops between a family caregiver and their senior loved one because of the stress that builds up over time.
Help to improve your senior's overall health and well-being, by providing them with an outlet to socialize with someone other than a family member.
Help to improve your mental & physical health, aiding you with the support you need to continue to provide the best care possible for your aging parent/grandparent.
Allow you the time you need to renew your overall health and mindset, so that you can return to your senior loved one feeling refreshed and revived.
Contact us today to learn how we can provide you with the relief and peace of mind you need! Call us at 865-332-5000
AARP Statistics in this post was sourced from the AARP website:

https://www.aarp.org/caregiving/life-balance/info-2019/caregiver-stress-burnout.html