September is recognized as Healthy Aging Month. That's why this blog post is focused on healthy aging tips for seniors. This month, both seniors, their family members and caregivers should focus on embracing the aging process.
This can be done by taking part in healthy habits that will enable seniors to enjoy a better quality of life. Aging is a natural process. Seniors who take good care of their health as they age often enjoy higher levels of energy and a higher quality of life.
Studies show that staying positive makes a huge difference as seniors age (psychologytoday.com). Seniors may become less frail and may even be less likely to suffer from dementia if they maintain a positive outlook. If you are a family member, or a hired caregiver you can use these tips to help your aging loved one stay positive:

If you are a family member, or a hired caregiver you can use these tips to help your aging loved one stay positive:
Help them remember what matters
Try to always Focus on hope in conversations
Participate in fun activities with your senior
When it comes to healthy aging, seniors need to adapt their lifestyle to changing energy levels, limitations, and
challenges. Some things to keep in mind are that can ease the aging process is are to include activities they love into their daily routine. You can also get them involved in meaningful activities with their friends on a regular basis. Incorporating physical activity each day is also a wonderful way to keep them active and healthy. Scheduling regular doctor appointments are also very important for seniors to maintain a healthy lifestyle. Lastly, don't forget to add more fiber to their diet!

Healthy Aging Tips & Facts For Seniors
There are several things you will want to keep in mind if you are caring for an elderly family member or patient. Being aware of both physical and mental illnesses, knowing what resources you have available for your elder, as well as what you can do to help them adopt a healthier lifestyle is very important. Let's get into a few healthy aging tips and talk about a few things to watch out for.
How to Spot Symptoms of Mental Illness in the Elderly
Some of the most common mental illnesses among seniors are: depression, anxiety, memory diseases, cognitive impairment and bi-polar disorder. About 58% of people over the age of 65 think that depression is a normal part of aging.
Myths like this often prevent seniors from having mental illnesses identified and treated. (Mental Health America Survey) According to the CDC (cdc.gov), an estimated 20% of people over the age of 55 have a mental health issue. Many mental illnesses can significantly affect physical, as well as social well-being. Mental illnesses can, however, be hard to distinguish from regular signs of aging.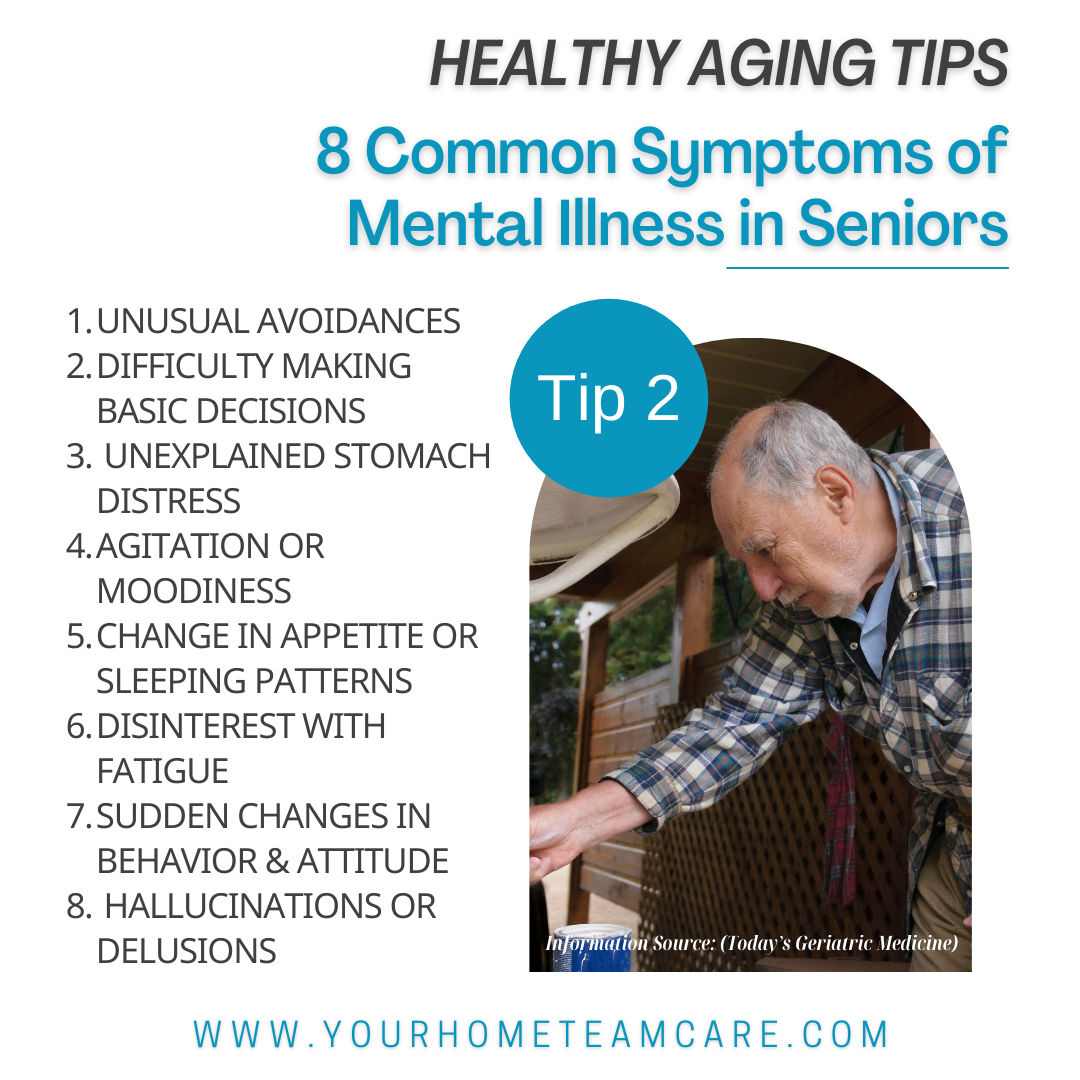 How to Help Elderly Adults Manage Their Cholesterol Levels
Seniors tend to be at an elevated risk of heart disease simply because of the aging process. When a senior also has high cholesterol, their heart disease risk increases. It's important for seniors to manage their cholesterol levels in order to keep arteries clear and functional (Information Source: Medicine.net)
The consequences of having too much LDL cholesterol include clogged arteries, increased risk of heart disease, higher risk of stroke and reduced function of the cardiovascular system. Besides high cholesterol, some other risk factors for heart disease
among seniors include race/ethnicity, smoking, conditions like diabetes or obesity, lack of physical activity, genetics and high blood pressure (Information Source: WebMD)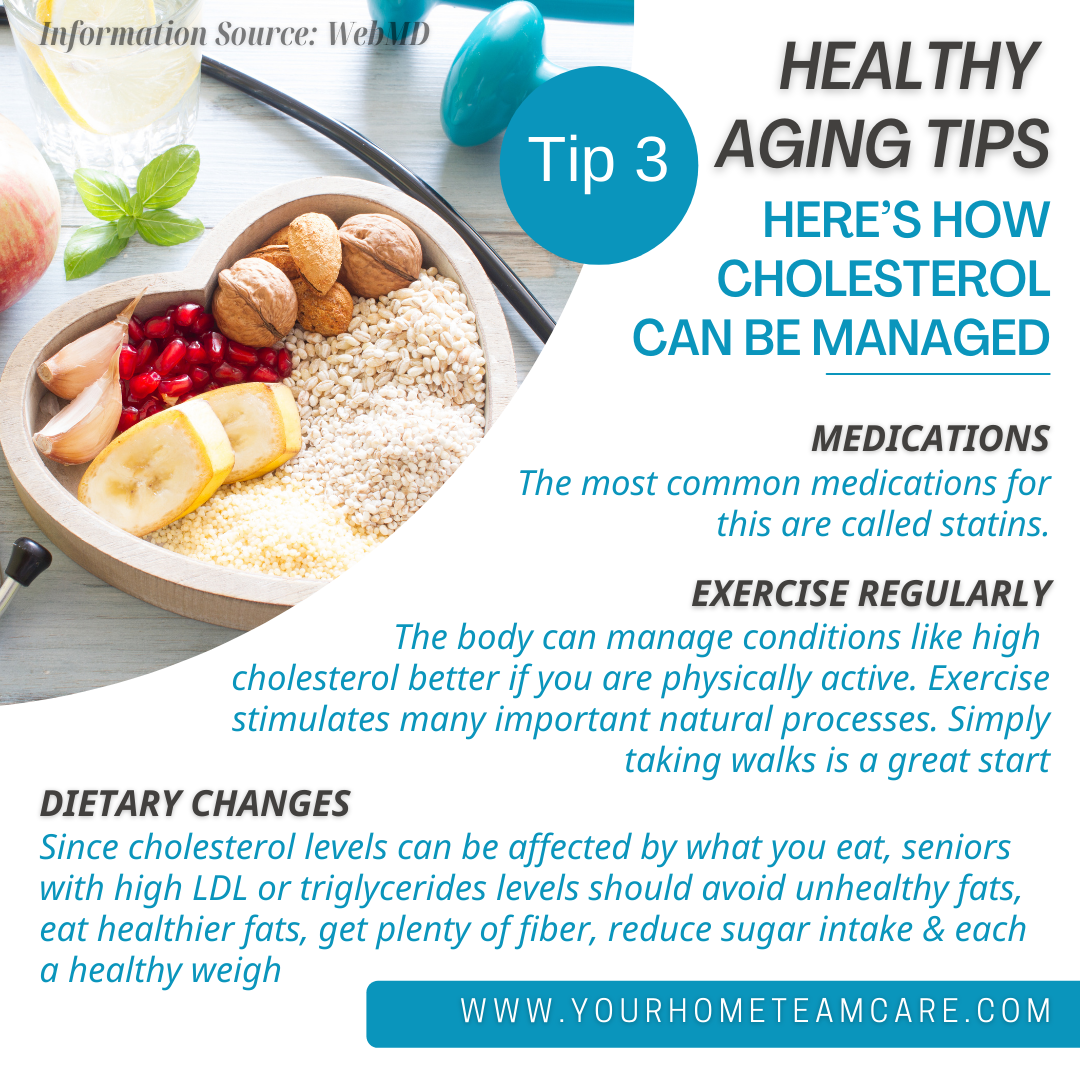 If Your Aging Loved One Has Suffered a Heart Attack – Here's How Home Care Can Help
When we talk about home care, think of it as a more personalized alternative to nursing homes and assisted living facilities. It provides services such as personal care, homemaking, companionship and more to individuals living at home, so they can remain comfortable and independent for as long as possible.
People typically confuse Home Health & Home Care. Home health is typically short-term medical services administered in the home to treat some one suffering from an illness or injury. This type of medical assistance is usually provided by a registered nurse, physical, occupational or speech therapist. Home Care companies, however are often requested to provide supplemental care as the patient transitions.
Home care can be very beneficial for seniors who are getting older, are chronically ill, are recovering from a surgery or are disabled. Maybe your loved one needs assistance with day-to-day tasks but does not need to be in a nursing home or hospital. Home care could be the right fit for them.
Here Are Some Benefits of Home Care For Seniors
Home-care services are more affordable than assisted living facilities and nursing homes
2. Families have peace of mind knowing their loved ones are are getting the care they need
3. Aging individuals desire is to remain at home
4. Individuals will have increased longevity due to more personalized care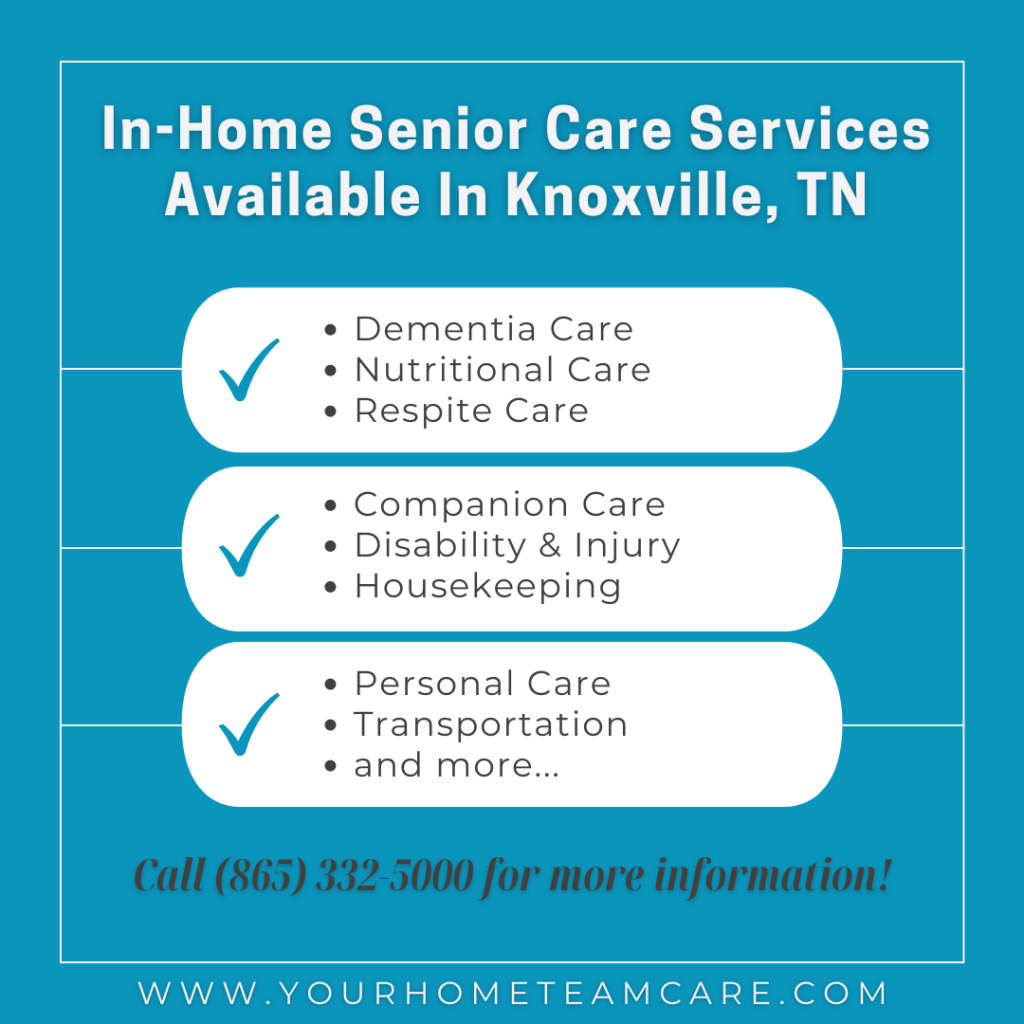 If you have a senior loved one at home and you need in-home care for them on a daily or weekly basis, contact a trusted local home care company. If you live in the Knoxville, TN area you can contact us to help care for your aging loved one. Our Registered Nurse Care Managers will review your loved ones' preference on every requested service in detail. We are here to duplicate & enhance the care that your elder has enjoyed from their family members. Give us a call at (865) 332-5000 to see how we can help alleviate the stress of caring for your loved one at home.