If you're caring for elderly parents at home, it's now a great time to plan some fun activities that they can enjoy.
Summer activities will not only keep them active but also give them a change of scenery and a chance to socialize. During the warm summer months it's a wonderful time for the entire family to venture outdoors and enjoy the beautiful weather. Although your aging parent/grandparent may not be be as active as they once were, it's important that they remain as active as possible both in the home and outside of the home. During the colder months people tend to stay indoors a lot more, but being cooped up at home is never a good thing for anyone not matter their age.
Venturing outside helps to get the body moving, and it also helps to boost. Getting fresh air and sunshine can really work wonders for your mental healthy, as well as your physical health. Your senior will love the change of pace and environment, it will also give them a chance to socialize with others. Summer time gives you tons of time and beautiful weather to enjoy the outdoor activities with your elderly loved one.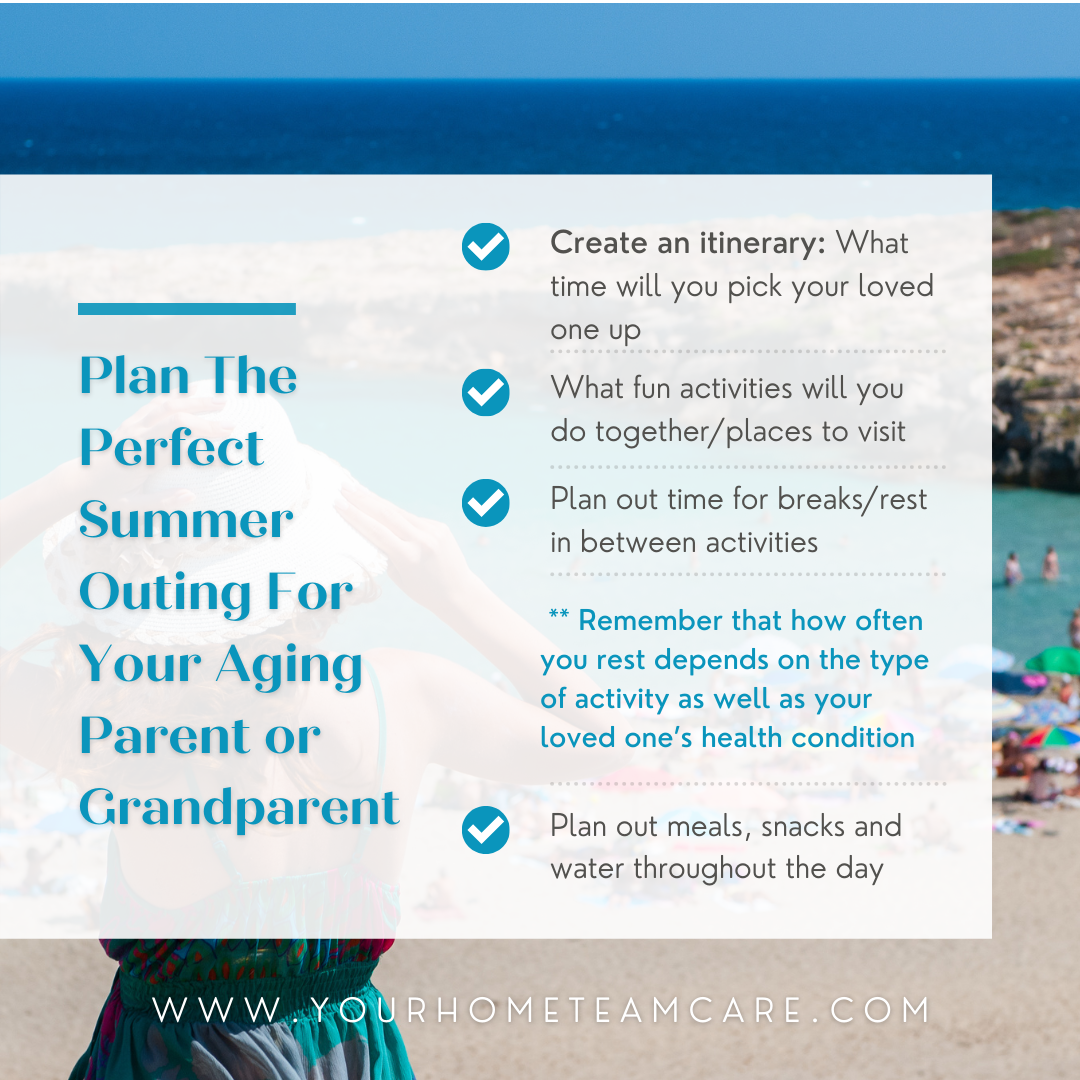 Keep these things in mind when planning any outdoor activity:
When it comes to caring for the elderly, always plan ahead for your outdoor activities. Being well prepared to handle any situation that may arise should be your top priority.
Put together an itinerary to ensure you and your senior loved one knows exactly what's in store for the day
Double check locations you plan on visiting to ensure they have the proper accommodations to meet your loved ones needs. For example: is the area wheelchair accessible? are there bathrooms available? is there easy parking? what are the costs involved for attending the event? How many people are allowed? All of these questions should be researched before making your final plans.
How To Find Fun Outdoor Activities For The Summer
There are a lot of fun activities you can do with your aging parent or grand parent during the summer months. Many of them are free or low cost, so don't ever feel pressured to spend excessively if you are on a budget. You can find many local events to attend, if you're not sure how to get that information you can join a few Facebook groups for your local area. They will have upcoming events listed in those groups so you can find the ones that interest you and RSVP, make reservations or just attend.
A cool thing about joining those local Facebook groups is that you can interact with the members and even make it a friendly social outing. Community events are a great way to bring people together in a safe and familiar environment. Another way to find upcoming events and activities is to check your local newspaper. There are always community events listed in the paper, and they usually include contact information for the host so that you can call for more details etc.
There are also tons of events posted on bulletin boards at your local diner, library and community centers. Make a ride around town and take a photo of all the bulletin boards you come across. You can then sit with your senior and choose the events that you would both like to attend and put those events down on your calendar. Now you have some wonderful activities to look forward to and you can start planning for those dates.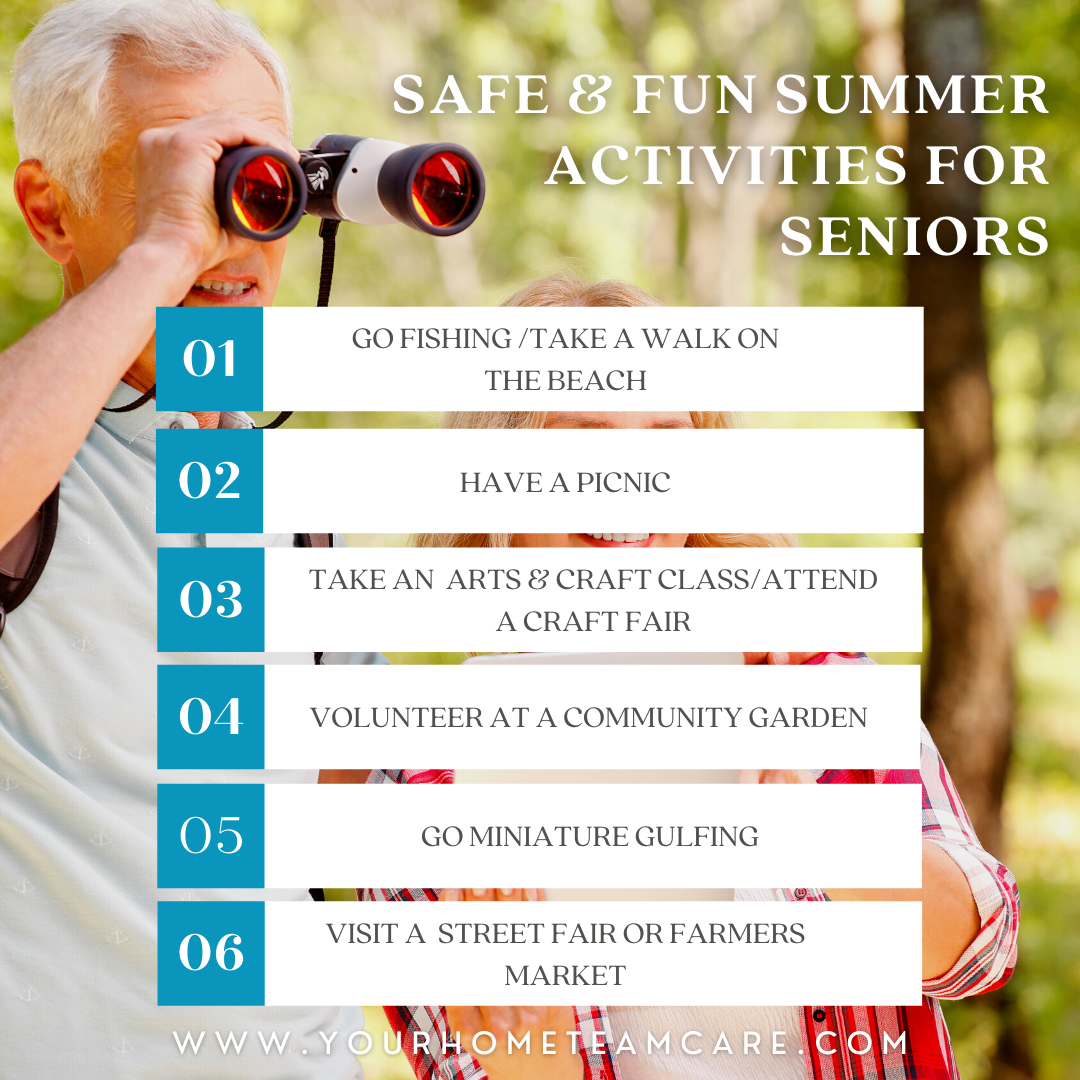 Here are a few things you may need to bring with you:
Plenty of water to stay hydrated throughout the day
Easy snacks like fresh sliced fruits, nuts and nutrition bars
An extra change of clothing
Adult diapers in case of in continence
Moist towelettes for easy cleanup
A hat/shades
Sunscreen
Comfortable walking shoes/water shoes
Any required medication
A sweater in case they get cold
A camera or phone to capture those precious moments
A phone to call for help in case there's an emergency
Before you leave the house, make sure you're fully prepared for anything that may happen. If your loved one is taking medication at specific times each day, be sure to pack their meds so that there is no need to rush back home if you stay out later than expected. A good idea would be to set an alarm for the times your loved one needs to take their medication. This way you won't forget to administer their meds amidst all the fun.
Prep the day or night before your trip/activity
When caring for elderly parents, whether they're in the home or immersed in an outdoor activity, they need to stay well nourished and hydrated. Packing a few light snacks and water is a great idea even if you plan on stopping for lunch or dinner at a restaurant/diner. Remember, staying hydrated and nourished is a top priority when it comes to older adults, especially if they are outdoors or involved in some form of physical activity. Preparing the night before is also a good idea, this will give you enough time to double check your list and make sure you have everything needed for both you and your parent/grandparent.
While doing your prep, be sure to choose proper clothing for your senior. Being appropriately dressed for the summer weather is something that you need to keep in mind at all times. Wearing layered clothing will give them options when it heats up during the daytime. They can take off a layer when hot, and throw on an extra layer if it cools down in the evening or nighttime.
Although caring for elderly parents can be challenging at times, being able to spend precious moments with them is priceless. There's no greater feeling than seeing a smile on their face, especially when that smile comes from spending time with family. If you're able to, plan a few outings or outdoor activities this summer for you and your family to spend time withe your senior parents/grandparents. This is a great time to come together and enjoy each other's company.
If you're currently caring for elderly parents and you found this blog post helpful, leave us comment below and share this post with a friend!