In this blog post, Dr. John Staley President/CEO of Your Home Team Care is sharing several tips to spot the signs that your senior loved one may need care at home. With approaching Thanksgiving and Christmas holidays coming up, some of you only get to see your aging parents or grandparents once or twice a year. At these family gatherings, you can use this opportunity to look for any indication that your parent's/grandparent's mental or physical health is declining. Here are some of the signs you can look out for that may indicate that they need some care:
Is their strength declining? You can look at the way they sit down at the dinner table or how they walk. By doing this you can see if they have enough strength to even be alone at home.
Can they do finger to nose test? "The finger-to-nose test (FNT) is a basic and simple physical examination that has been conventionally used to examine cerebellar function. In the FNT, patients are asked to alternately touch their own nose and the evaluator's stationary or moving finger while lying supine, or while sitting or standing."1
What is your elder's gait like? You can even have them do the heel to toe (Tandem Gait: Physical Exam) to see what their balance is like. With the Tandem Gait Test, patients are asked to "Walking in a straight line with the front foot placed such that its heel touches the toe of the standing foot. The test helps to exacerbates all gait problems (especially those of vestibular in origin), and used to distinguish the subtypes of cerebellar disease." 2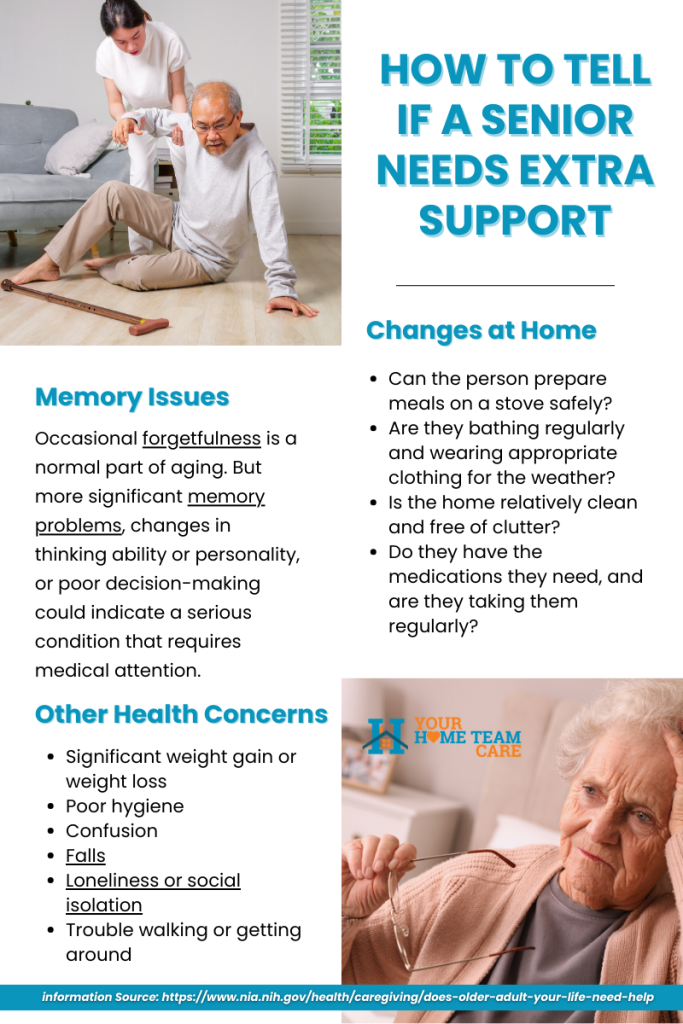 Here are a few questions to ask yourself when evaluating your elder's physically ability:
What kind of speech do they have? Is their speech slurred or do they slow down a lot when they speak?
Are they forgetting thoughts or unable to complete sentences when they're in a conversation?
Do they sometimes stop in the middle of a conversation?
According to Dr. Staley, "some of these symptoms may be leading to other diagnoses like dementia. Another thing you can do is to look at the attitude or demeanor of your elder. If your parent or grandparent has always been a quiet and polite most of their life, however, they are suddenly becoming combative or agitated, then there could be other symptoms to indicate that there something not only mentally going on, but also physically going on with them."
Falls in the home and outside the home are also something to keep in mind, seeing that "more than one out of four Americans age 65+ falls each year. Falls are the leading cause of fatal and nonfatal injuries among older adults." 3
Changes in a senior's behavior, speech and physical ability are indications of aging. It's important that you evaluate your senior loved one and ask yourself, are they able to be by themselves? What kind of support do they need? You can start having discussions with your family and senior loved one to find ways to provide care and safety for them without taking away their independence.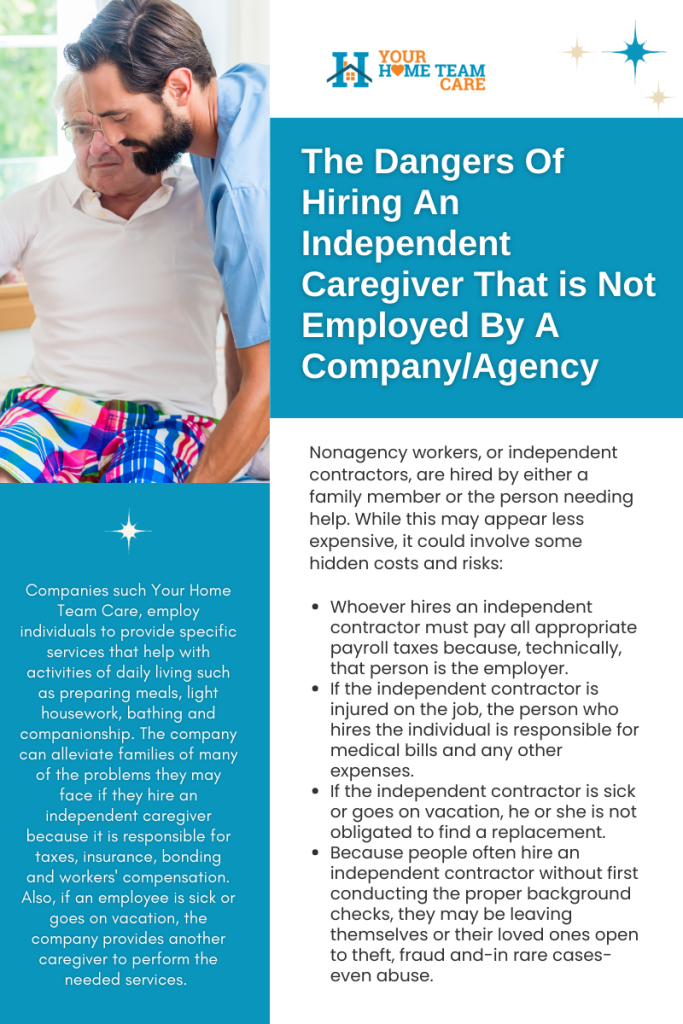 "Companion home services like us here at Your Home Team Care, being the only RN managed and Physician owned companion care company in the United States. We are able to assist these things with our RN rounding, and are able to be a much more value added service than a normal business entity that is just putting a provider out to care for people. We can do a lot more from a health care providing standpoint, because of our physicians, RN's and LPN's are available to assess your parent and loved one and what they may need." (Dr. John Staley)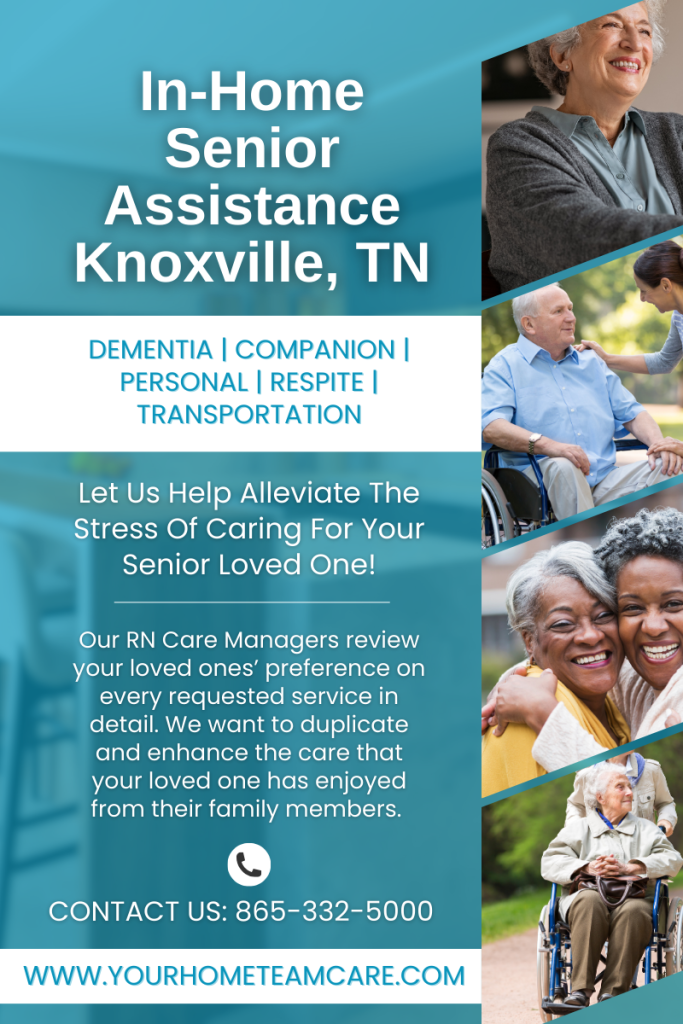 At Your Home Team Care we are able to provide several in-home senior care services including respite care. "Respite care provides short-term relief for primary caregivers, giving them time to rest, travel, or spend time with other family and friends. The care may last anywhere from a few hours to several weeks at a time. Respite care can take place at home, in a health care facility, or at an adult day care center." 4
Whether you need help caring for your elder a few hours a day or a few days each week, we are here for you. Our caregivers have non-medical training in:
Dementia Care
Nutritional Care
Respite Care
Companion Care
Personal Care
Disability & Injury
Housekeeping
General errands
Our caregivers are not only trained in the fundamentals of senior care, but they are also required to go through compassion training, which is a training program ensuring that our staff aligns with our mission to provide safe and compassionate care that fosters happiness and peace of mind.
REFERENCES:
(1) The finger-to-nose test – National Institute of Health: https://www.ncbi.nlm.nih.gov/pmc/articles/PMC9529620/
(2) Tandem Gait: Physical Exam – Evidence Based Medicine Consult: https://www.ebmconsult.com/articles/tandem-gait-heel-to-toe
(3) Falls Prevention Statistics – National Council on Aging https://www.ncoa.org/article/get-the-facts-on-falls-prevention
(4) Respite Care Definition – National Institute on Aging https://www.nia.nih.gov/health/caregiving/what-respite-care