The Christmas season is here and it is a wonderful time to spend with your loved ones. Making the holidays special for the aging parent or grandparent in your life can involve simple things like spending time together, cooking a special meal or two and also baking or decorating the Christmas tree.
Nostalgia has a powerful effect on everyone, especially seniors. When you make the holidays special for them, you can improve their quality of life. The magic of the holiday season doesn't necessarily wear away with age. Seniors get nostalgic during the holidays, and many still want to celebrate with their friends and family. You can find many fun and healthy holiday recipes for the entire family on the following websites: aplaceformom.com, tasteofhome.com, or health.com.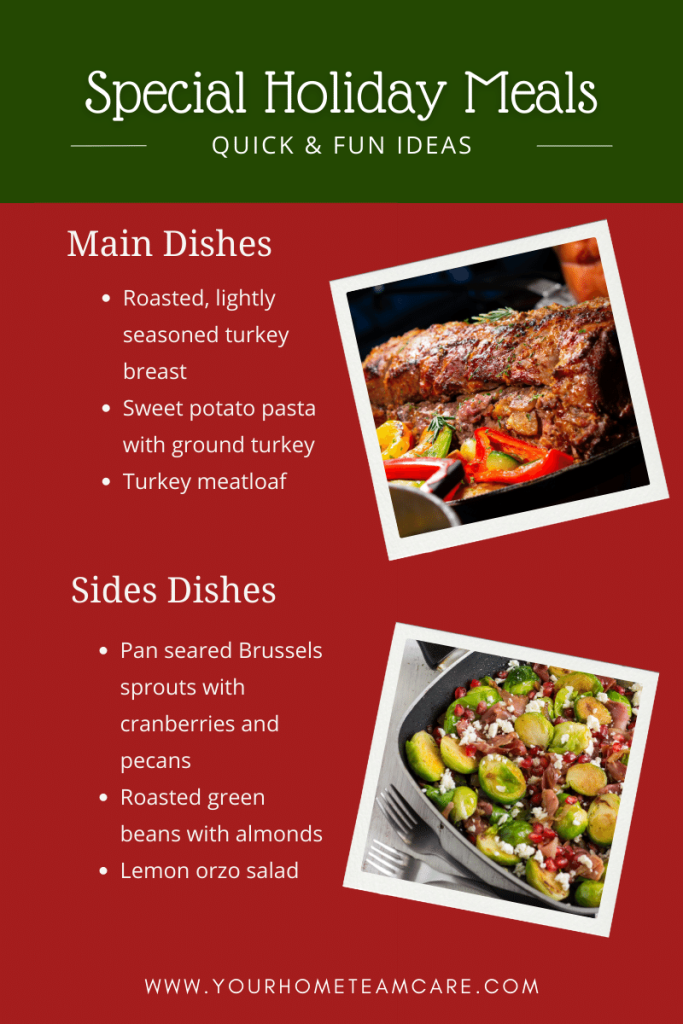 Try these Mental & Emotional Health Tips This Holiday Season
During the Christmas season, although it is a time for good cheer and lots of good will and celebrations, for many seniors it can be a lonely time of the year. Depression can be a result of this loneliness, however, there are a few ways you can help your aging loved one stay safe both mentally and emotionally:
Encourage social activity, even if through technology like Instagram/Zoom or WhatsApp
Offer holiday activities: things like decorating, crafting, Christmas shopping or baking
Try making healthy versions of their favorite holiday foods and desserts
Talk with your aging parent/grandparent and ask them about their traditions and memories
Lastly, you can truly help them by listening to them, sympathizing with them, and reminding them of their faith and values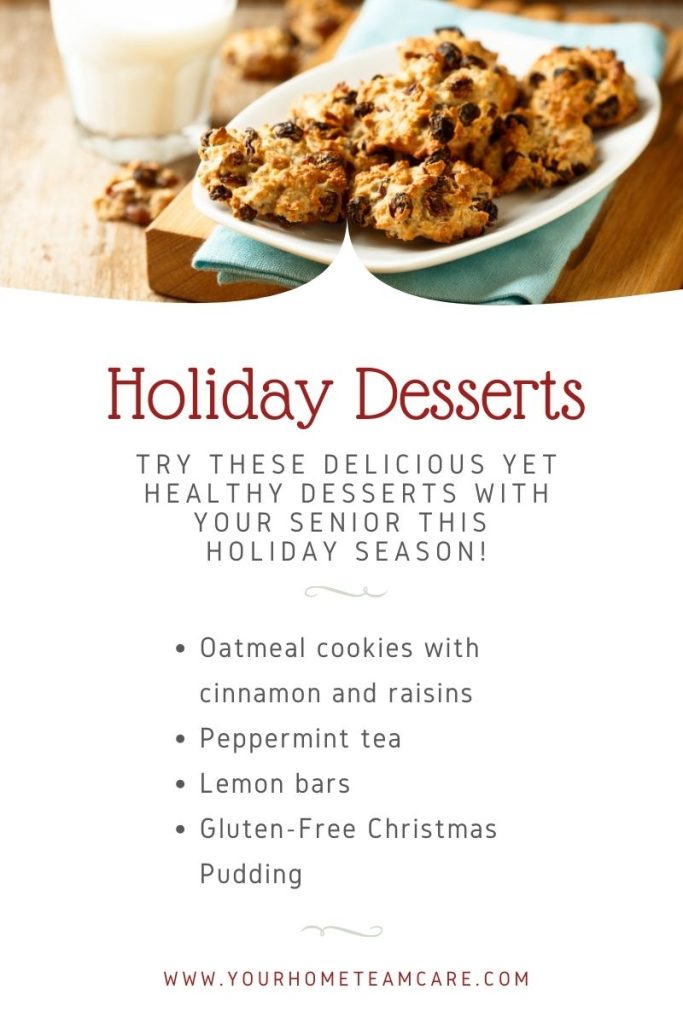 Here is our "Holiday Guide" for seniors with Dementia
For individuals with dementia, the holiday season can be a bit tough. There are a few ways you can navigate the holidays—including holiday activities, as well as gift giving when it comes to seniors with dementia. The holidays are often a times a season of celebration, being surrounded by family and lots of excitement. For individuals living with dementia and the caregivers who support them, the holidays can present a world of new challenges. These challenges can be physical, mental and emotional, which can all disrupt a senior's daily life. Here are a few things to keep in mind:
Physical Safety:
Seniors with dementia may have limited mobility and in this case need help getting around. If they are visiting a home or other location that they are not familiar with, they may have difficulty with stairs. It is important to have someone present at all times to help them navigate the unfamiliar surroundings for that occasion.
Mental Safety:
Crowded and noisy places can frustrate or overwhelm the best of us. Someone with dementia can become easily frustrated in this type of setting. Even when at home, family celebrations can become loud in the midst of the festivities. It's a good idea to have a quiet space or room available for your parent/grandparent, so that they can have some quiet time if things get a bit too loud.
Emotional Safety:
As we all know, Christmas time can be an emotional time for anyone, a senior living with dementia, it's no different. If your loved one is having trouble following along with a conversation or remembering things, they may start to feel confused or irritated. Speak with your family prior to the holiday gathering and explain to them that your aging parent or grandparent needs patience in order for them to collect their thoughts during conversations. By doing this, everyone will be able to enjoy the holidays.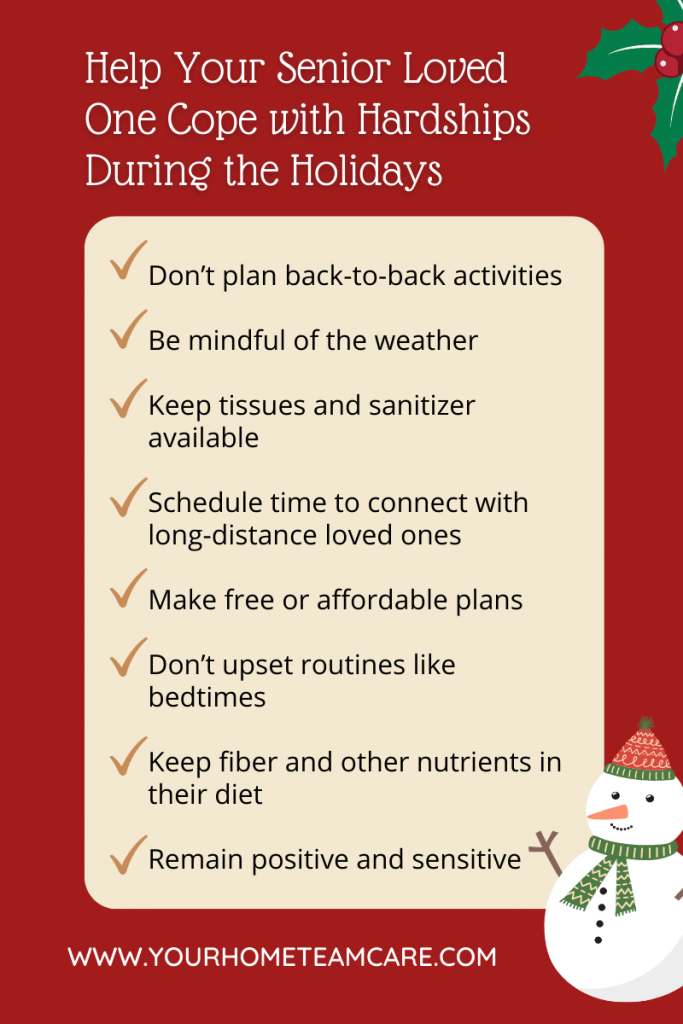 Here are a few "Gift Ideas" for seniors living with Dementia:
Christmas is all about giving and spreading holiday cheer and it's no different with seniors. Depending which stage of dementia your loved one is in, there are a nice variety of gifts that will make wonderful presents. These are just a few ideas, feel free to add onto the list and see which ones you will choose for them.
A soft blanket in their favorite color
An activity book filled with crosswords, word-search, trivia questions etc.
Music CDs or vinyl records
Velcro shoes to make dressing easier for them
A stuffed animal or doll (maybe from a time they were growing up)
Large desk calendars
Photo albums with names next to each photo
A lunch or brunch date with them
A comfortable pull over sweatshirts
An activity lap blanket (they can do the activities with you too!)
We hope that these tips will help you and you and your loved one enjoy the holiday season together!
The following websites were used as sources for this blog post: