In this blog post we're taking a look at the hectic role of caregivers and how to deal with caregiver stress. Many families at some point will have to deal with the aging of their parent or grandparent, and figure out how they will be able to look after them in their old age. Sometimes it can be very difficult, especially if that aging parent/grandparent needs special care or care around the clock.
Someone from the household will need to become the primary caregiver, if the aging adult is unable to live independently. Taking on the role of primary caregiver is not an easy task for anyone, especially for someone that has to work, as well as take care of the home, kids etc.
The role of a family caregiver is very diverse, in that the family member may perform a range of activities, such as providing companionship, running errands, paying bills, assisting with housework or providing medical and other forms of physical care, cooking, providing transportation and much much more.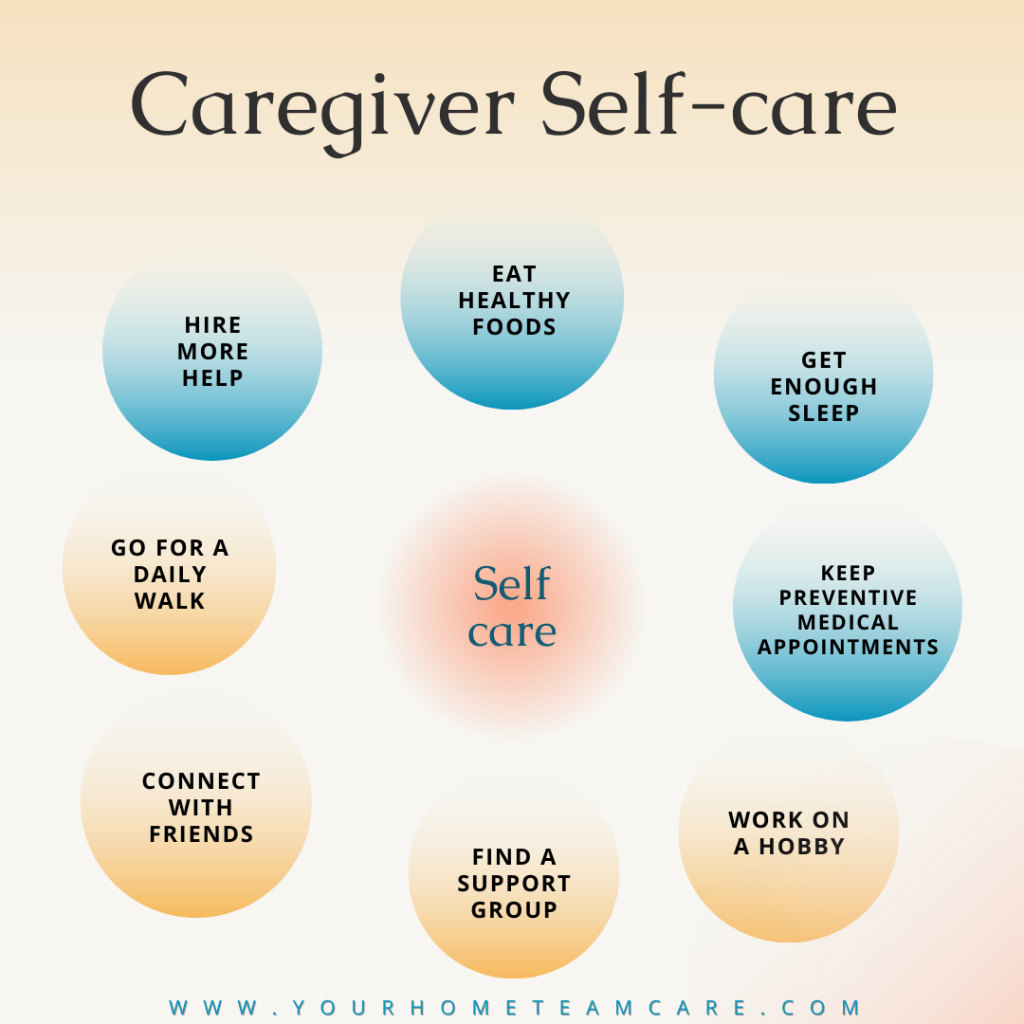 "There are 40.4 million unpaid caregivers of adults ages 65 and older in the United States. Of that group, nine-in-ten are providing care for an aging relative, and a plurality is caring for a parent, according to new data from the Bureau of Labor Statistics."
Caring for the elderly can become very stressful for families. That stress can often times lead to conflict in the home, caregiver burnout and even take a toll on the mental and physical healthy health of both the caregiver and the senior. When this happens, it's important to seek help and find ways to lessen the burden of being the family caregiver. There are several ways a caregiver can deal with burnout and stress. However, before we dive into those tips, let's take a look at the signs to look out for in order to avoid caregiver stress.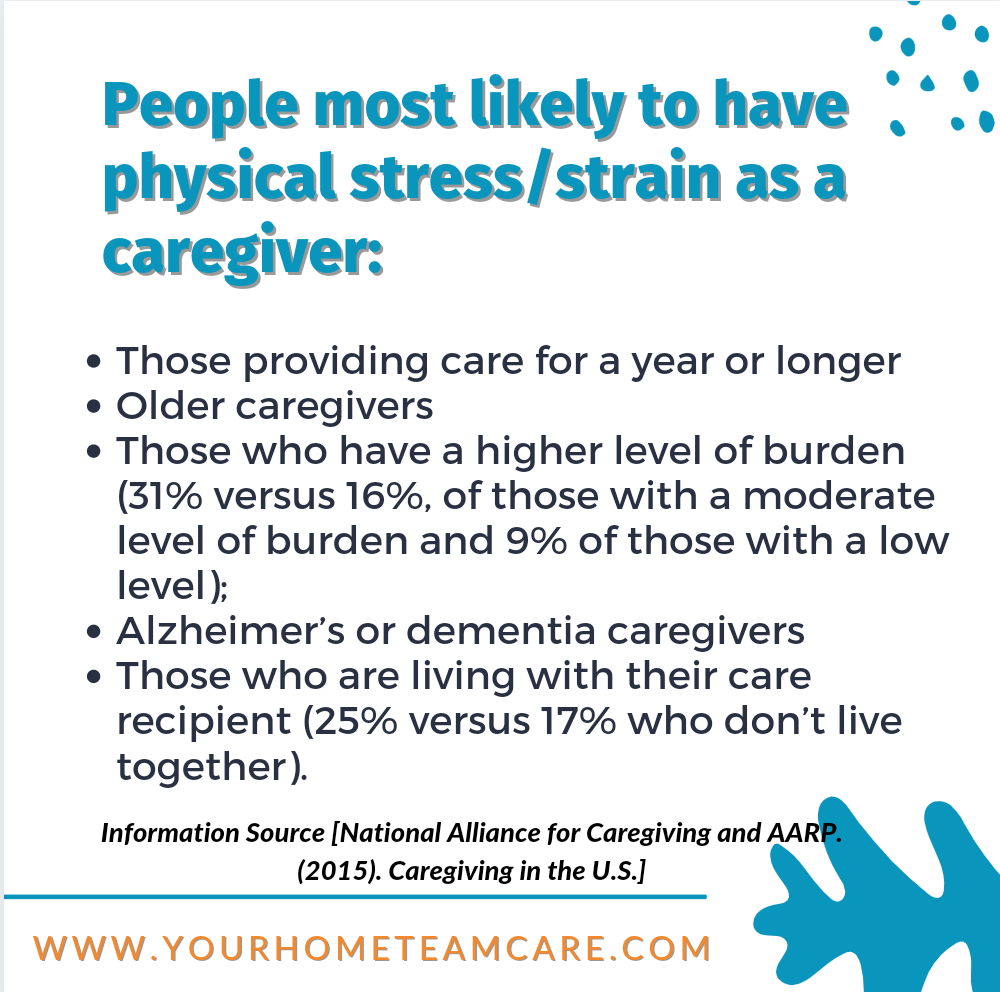 Family members experiencing caregiver stress will eventually see just how much "stress" affects not only their lives, but the lives of the people close to them. Because stress can greatly impact a person's mood, physical health and mental health, it is not to be take lightly.
"When you take a look at caregivers (family caregivers & paid caregivers) it is a fact that both depression and mental health problems are higher among caregivers than people who do not have a caregiving role. This is particularly true for caregivers who are charged with helping someone with cognitive decline. Studies show that 30 to 40% of dementia caregiver suffer from both depression and emotional stress.
According to studies from a Caregiver.com article; Caregivers report that they are stressed and frustrated. 16% of caregivers are emotionally strained, while 26% state that taking care of their loved one is had on them emotionally. 22% are exhausted when they go to bed at night. This shows what many people experience firsthand: the challenges of providing care for a loved one." Information Source: https://caregiver.com/articles/caregiver-stress-syndrome/
If you have become the primary caregiver of a family member, it is important for you to find support. Now support can take many forms, however, it is up to you to decide the best type of support for your situation. By enlisting help, you are ensuring that both you and your senior loved one will be able to live maintain a healthy lifestyle.
The first and probably one of the most important things you can do is to get the help of other family members or hire a highly skilled caregiver to help you care for your senior loved one. There are many in-home senior care companies that provide trained caregivers to come into the home and assist with daily tasks of seniors. These tasks can include: personal care and grooming, housekeeping, running errands, transportation services, companion care services, and much more.
Hiring a caregiver to help take care of your elder a few hours each day, or even a few times per week will ensure that you are not running yourself ragged trying to do everything yourself. You will now have the time to take a much needed break. It is not selfish to take time for yourself, as a matter of fact it would be selfish not to. When you give yourself the time and space to rest and recuperate, you're putting yourself in the best position and mental state to care for your family. Having a clear mind will enable you to make better decisions, show more affection and be 100% present for your family.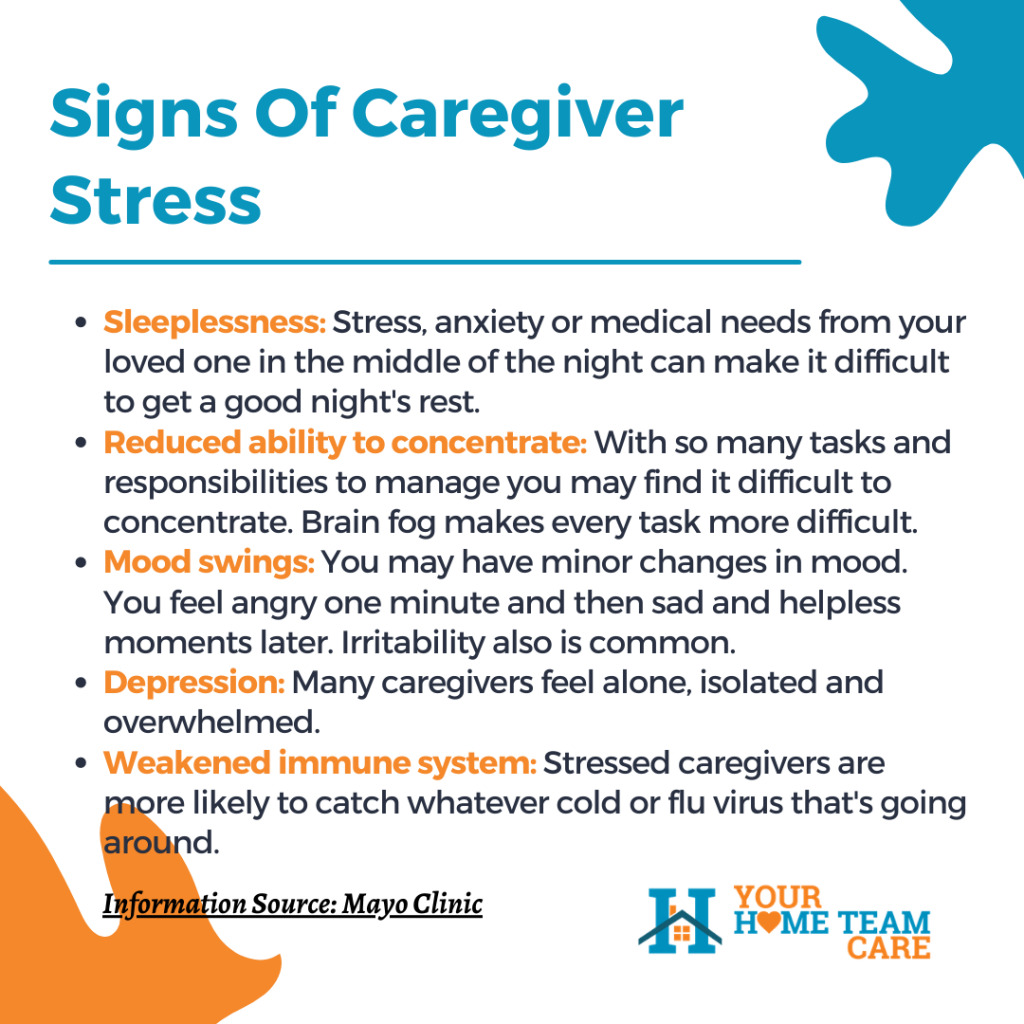 The most important take away from this post is that as the primary caregiver of a family member, you need to take time to care for yourself just as much as you care for your elder. There needs to be a balance as a caregiver because when you are functioning at your best, you will be able to properly care for your loved one. Your mental and physical health is just as important as your senior loved one's health and wellness.
If you are sick, stressed, and depressed, you will not be able to properly tend to the needs of your parent/grandparent. Stress can put a strain on any relationship, and that is not something that anyone wants. Be sure to reach out to other family members, friends and support groups to see how you can all work together to build a safe, loving and stress free environment for yourself and your aging loved one.
If you live in the Knoxville TN area, be sure to reach out to us at Your Home Team Care. We offer many different In-Home Senior Care Services to help families care for their loved ones in the comfort of their own homes. Give us a call (865) 332-5000 to see how we can help alleviate the stress of caring for your loved one.
Our Non-medical Caregivers have advanced training in the following:
Dementia Care

Nutritional Care

Respite Care

Companion Care

Personal Care

Transportation

Disability & Injury

Housekeeping

General Errands

& more!